Last page update: July 2022 APEC
Sharing of creative ideas and moments have been made easy as digitalization is sweeping through the region and all over the world. Through technology, photos and videos are uploaded onto the internet and they instantly appear on millions of phones and computer screens. Increasingly through digital initiatives, APEC continues to drive its efforts to build prosperity for people in the Asia-Pacific region. APEC's theme this year is to call on economies to Open. Connect. Balance.
For this year's APEC Photo Contest, we seek your creative interpretations of Open. Connect. Balance. Calling all budding amateurs and proven professionals photo enthusiasts alike to share your vision through your images that capture the theme and priorities of Thailand's APEC host year, and send them to APEC!
You may choose to interpret any one of the following APEC 2022 theme and priorities:
Open to all opportunities
Connect in all dimensions
Balance in all aspects
These priorities aim to connect and empower people, businesses and communities in all parts of the Asia-Pacific. As the region works together hand in hand toward an inclusive and sustainable recovery amid these challenging times, people in APEC are also thriving in an age of digital disruption with fresh and innovative ideas. Your photos can help to tell this story. We look forward to receiving your creative and beautiful snaps!
PRIZES
First Prize – SGD 2,500
Second Prize – SGD 2,000
Third Prize – SGD 1,500
Popular Choice – SGD 1,000
Instagram Influencer – SGD 1,000
---
CONTEST TIMELINE & WINNER SELECTION
Photo submission opens: 13 July 2022
Photo submission deadline: 25 September 2022, 23:59 (SG – GMT +08:00)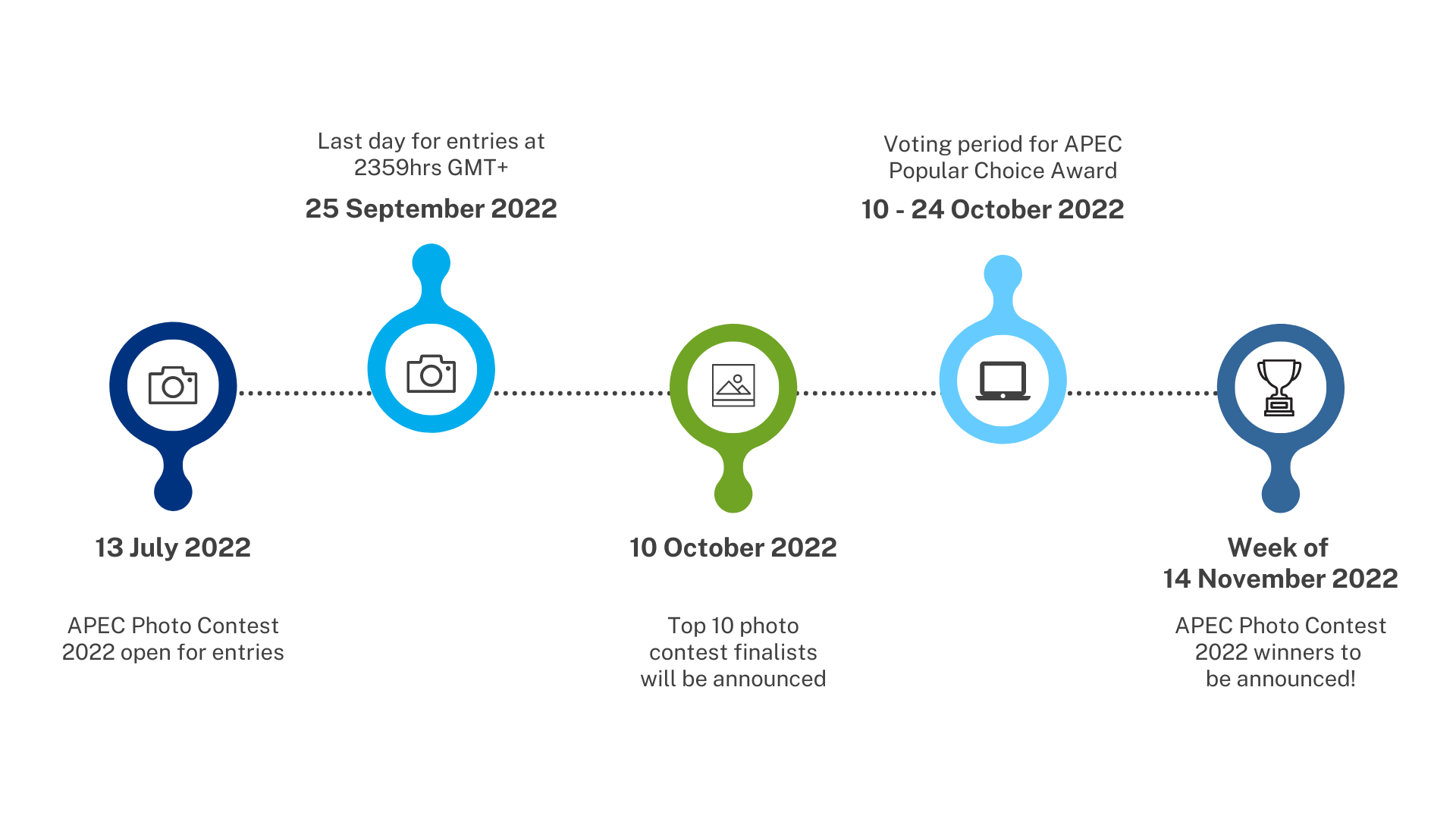 Participants agree that the APEC Secretariat will feature the 10 selected finalist photos on APEC's social media channels – Twitter, LinkedIn, Facebook and Twitter. The winners will be selected by a panel of judges consisting of the APEC Secretariat's Executive Director, Chair of APEC 2022 Senior Officials' Meeting, award-winning photojournalists and photographers from the region.
The 10 selected finalists will also have the chance to win APEC Popular Choice Award on top of the the judges' prizes. Members of the public will choose their favorite photo to win the APEC Popular Choice Award via a link posted on the APEC website and social media channels, starting from 10 October 2022 at 10:00 (SG) and closing at 24 October 2022, 17:00 (SG – GMT +08:00).
Winners of the photo contest will be announced during APEC Economic Leaders' Week in Bangkok during the week of 14 November 2022. Results will be published on the APEC website and on APEC's social media channels.
Cr. APEC